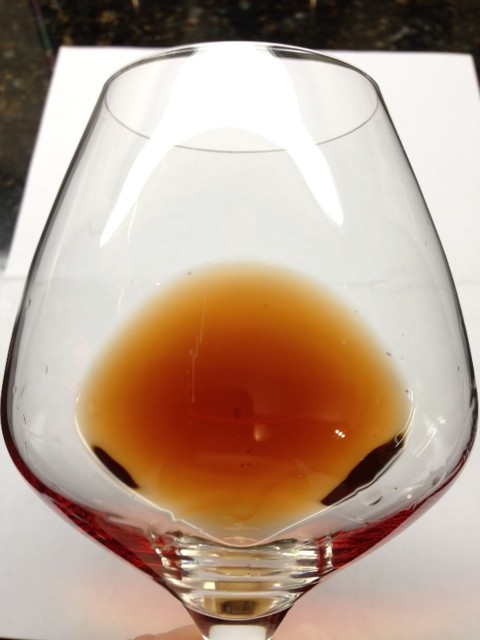 Are you smarter than a would-be Master Sommelier? Win The ONE stemware!

Read the tasting clues in this post and take the Quiz to see if you can guess the wines we served based on our pro challengers' descriptions.  The winner will get a prize set of The ONE wine glasses.  (To store your score for prize eligibility, you'll need to create a free profile.)  If there are multiple top-scorers, I'll draw a final winner from that group.  (Enter by midnight Pacific Standard Time on November 15, 2013 to be eligible for the prize.)  Good luck!
The Top Taster New York City blind wine challenge winner is Joshua Nadel from Andrew Carmellini's Lafayette Restaurant.  Both Joshua and the restaurant displayed tour de force performances during the New York City Wine and Food Festival—worthy of a future blog post.
But read on, blind taster for your chance to win some snazzy stemware:  Top Taster is a blind wine tasting challenge that showcases the city's top Sommelier talent – including some of my Master Sommelier colleagues – and gives consumer attendees a fascinating window into the mysteries of blind tasting 6 world class wines.  Actually, it is seven wines counting a "warm-up wine" served to prep the pro challengers for the task of identifying 6 wines blind in 25 minutes, and to give the ticketed guests a mini-lesson into how blind-tasting is done.  The stakes? Two round-trip business/first class tickets anywhere in the Lower 48 courtesy of NYCWFF sponsor Delta Air Lines.  (I'm proud to choose the wines for Delta's Business Elite service, and even prouder that at a festival full of events devoted to celebrity chefs and winemakers, they sponsor this celebration of sommeliers.)  The consumer bracket was also eligible for air tickets—two for the winner with the most correct guesses for the grape and country of each wine, and two more for a "lucky loser" selected by a random drawing from all the consumer answer sheets.  With the great wines (read on for the descriptions, and a taste of how the somm's figured it out), the chance to rub elbows with top sommeliers, and the chance for tickets, it's no surprise every one of the 60 available seats was sold out.
My co-hosts for the panel were three of New York City's newest Master Sommeliers—Laura Maniec from Corkbuzz Wine Studio (a great wine bar and great place to practice your blind tasting with all of their selections by the glass) and Laura Williamson from Restaurant Jean-Georges, plus our token male John Ragan from Union Square Hospitality Group.  (Dustin Wilson from Eleven Madison Park couldn't make it thanks to a bum leg and a packed schedule.)
---
The ten Advanced Sommeliers tee'd up for the professional challenge are just that—having passed their Advanced-level exam from the Court of Master Sommeliers they are all intensely training to take the next and top level, the Master Sommelier Diploma exam.  Consequently, they are just amazing blind-tasters.  They are also great teachers and showmen, as the "warm-up" wine tasting revealed.  With my panel introduced, Laura Maniec took charge, calling on three of the pros seated in the front row in rapid succession to analyze the wine—sight, scent, taste, initial and final conclusion of the grape, region, quality level and vintage—live, in front of the dumbstruck consumer crowd.  That might seem like a dirty trick designed to create reality TV-style drama and stress.  But in fact, Master Sommelier candidates are quite used to this.  All three parts of the Master Sommelier test—theory, service and blind tasting–are oral, a format that ably tests a candidate's depth of knowledge and grace under pressure and thus is perfect for a professional whose job puts them on their feet and on-stage all the time.
Before starting off with the practice wine (a red), Joshua set the mood for the whole event, displaying for all his formidable schnozz in profile. Obviously it served him well, and set the crowd up for a fun romp of an afternoon rather than a snobby and stiff tasting.  The pros were unfazed by the rowdiness and dug right in to the warm-up wine.   The visual analysis: transparent ruby color with a pink rim and moderate viscosity based on the speed of the "legs" trailing down the sides of the glass suggested a thin-skinned varietal.  The nose and palate of red fruits in the under-ripe family such as red currants and cranberries, and snappy acidity, gentle tannic tug and hint of earth, suggested Pinot Noir from a cooler terroir and a subtle approach—old world or new?  Morgan Harris from CorkBuzz took it home—positing a young Pinot Noir from Oregon's Willamette Valley from the 2011 vintage.  It was a French red Burgundy, Bouchard's Beaune-Greves 2010, making Morgan's guess of the cool Willamette Valley a laudable miss.
---
Now we were ready to start the six-wine blind challenge.
I decided to cut the time from 25 minutes to 20, to amp the challenge for the pros and give us more time for the analysis and reveal of the wines.  Ready to taste along?
White Wine 1 – Laura Maniec called this one "tricky" and she was right.  Pale straw yellow and moderate viscosity could be a host of young wines, so going straight to the nose, the citrus, apple, stony minerality and low-moderate influence of new oak seemed to eliminate aromatic varietals, subtler old world grapes, and "big" new world whites—yay!  Or did it?  The palate had unexpected richness—old world or new? A subtle but long finish suggested fine quality but where to settle? A classic grape or an outlier?  Every pro challenger got the grape right, and nearly all of them the region.   Will you?
White Wine 2 – John Ragan, MS took over here.  This was a tough-y, especially since for the pros in my after-kids-bedtime haze of creating the tasting sheets I left off the right grape from the choices–aack!  "Just don't count it" in the scoring was John's on-the-fly advice, and we didn't.  Still, many of the pros got it based on its classical profile:  straw yellow color with some gold glints, moderate-plus viscosity.  Moderate-plus body and acidity, with ripe pear, a hint of honey, some subtly savory celery-lentil notes, and a clean wet-rocks minerality.  No obvious oak presence, neutral barrels if any. Good luck!
White Wine 3 – Lots of sighs of relief for this "banker" wine that a lot of the consumers guessed correctly as well.  Pale watery-straw color, intense green apple and lime with notes of passion fruit and grassiness, and no evidence of oak. It could only be…
Red Wine 1 – Hello, deep purple! With a fuschia-pink rim and moderate-plus viscosity in the purple-stained tears clinging to the sides of the glass.  Very forward sweet dark raspberry fruit, eucalyptus and coconut notes (from oak?), plush integrated tannins.  Another banker based on the fact that every pro taster guessed it right.  Can you?
Laura Williamson, MS coached the group on these last two, pushing for discipline and speed in their oral analysis.  The candidates were slowing down and ruminating for too long–something you can't afford to do in the real Masters blind taste test.
Red Wine 2 – The dark-centered ruby with garnet-brick glints at the rim indicated bottle age.  Toffee, Bourbon-barrel and sweet spice scents suggested American oak; sweet tobacco and leather on the mouth-filling palate confirmed a style of wine aged in barrel and bottle.  Although there was still lots of dark fruit, the scents of turned earth on the nose, palate and finish sealed it as…what do you think?
Red Wine 3 – A classically paradoxical wine—you can see through it, and there is a yellowish brick-tinged rim, but the bruised plum fruit and sweet balsamic flavors come wrapped in gripping, tarry tannins.  Medium-plus body, long truffly earthy finish; it's a classic example of…
How did our consumer tasters do?  The winner Cathy Callahan, a Manhattan banker, got 6 wines out of 6 correct.  With that palate, I guess she could do what I did and quit her finance job for a wine career.  My husband John got five out of six correct fair and square; I don't tell him what the wines are, of course.  For him that was a slightly off day as he frequently gets them all!
Want to test
your
skills as a Top Taster?  Our next challenge will take place at Flavor! Napa Valley on Friday, November 22, 2013.
Click here for info/tickets.
https://d262r1oo86g3du.cloudfront.net/wp-content/uploads/2013/10/11082514/Blind-red_rim-variation-e13827255564661.jpg
640
480
Andrea
https://d262r1oo86g3du.cloudfront.net/wp-content/uploads/2020/11/19125030/AndreaCorpLogoHwhite.png
Andrea
2013-10-30 12:00:45
2014-09-02 08:32:26
Secrets of Blind Wine Tasting from New York City Wine and Food Festival's "Top Tasters"