The Wines of Southern Italy
The wines of Southern Italy….
[jwplayer player="1″ mediaid="30316″]
Regions – x DOCs and 17 DOCGs, a region-wide DOC and no IGT wines.
History – First vines (800BC), unification (1863), DOCs (1963)
Climate and Geography – Warm Mediterranean
Soils – Volcanic ….
Grapes – Sangiovese, Gaggliopo,
Viticulture – ?
Vinification – Bush vines
Top producers – ?
Regions of Southern Italy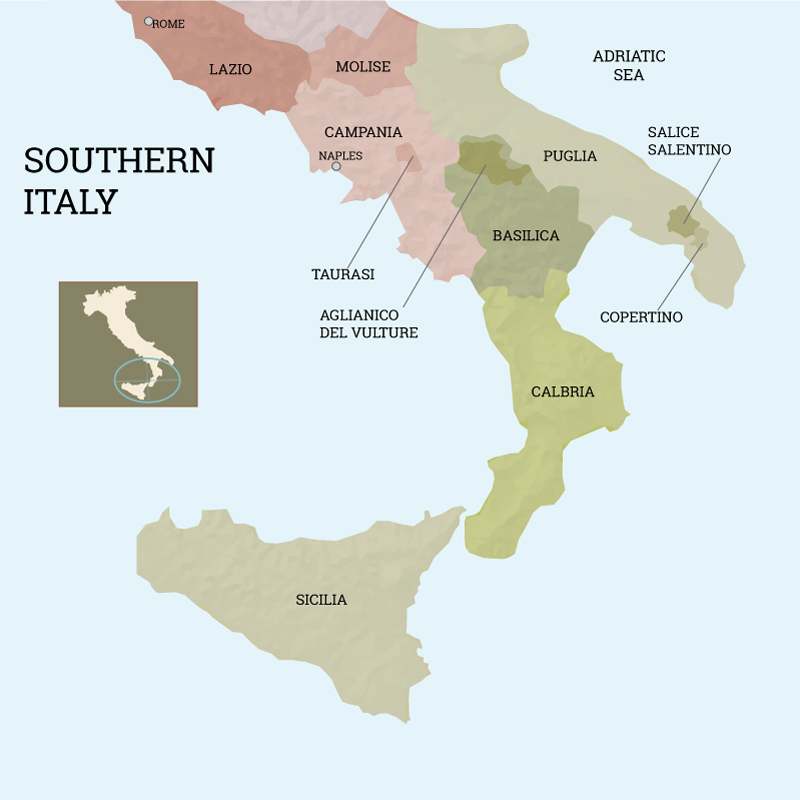 Campania – Nero d'Avila…
Puglia – The heel of the boot…
Basilicata  – The instep, mountaineous
Calabria – The rustic toe of the boot – Ciro
Sicily – Large island with many climates, center is being planted in high density and…
Taurasi –
Falanghina –
Salice Salentino –
Ciro – DOCG on Calabria
Copertino – A
Aglianico del Vulture – Ea
Pantelleria  – H
Sardinia – Large island with few plantings – reds based on Cannanau and whites Vermentino di Gallura DOCG.
Aglianico – The
Sangiovese – The
Piedirosso – The
Primativo –
Gaglioppo – In Calabria
Negroamaro – x
Nero d'Avola –
Frappato –
Cannonau –
Fiano –
Greco –
Cataratto –
Inzolia –
Grillo –
Vermentino –
Chianti
(Sangiovese)
Barolo/
Barbaresco
(Nebbiolo)
Barbera d'Asti
(Barbera)
Dolcetto
Gavi
(Cortese)
Tuscan IGT
Pinot Gris
Appearance
Color
Ruby
Garnet
(Orange rim)
Ruby/Purple
Ruby/Purple
Lemon-Green
Intensity
Medium
Medium
Medium +
Medium +
Medium
Nose
Intensity
Medium +
Medium +
Medium
Medium +
Medium +
Medium
Fruit
Cherry
Cherry
Cherry
?
Earth
Chalk
Tar
Minimal
Minimal
Wood
Miminal
Varies
Varies
Varies
no Oak
Other
Oxidative
Roses, Oxidative
Oxidative
Oxidative
Palate
Sweetness
Dry
Dry
Dry
Dry
Dry
Dry
Acidity
Medium +
Medium +
High
Medium -
Medium +
Tannins
Medium +
(Chalky)
HIgh
Medium -
High
Phenolics

None
None
None
None
Alcohol
Medium
Medium
Medium
Medium